One of my ALL-TIME favorite non-profit organizations is
St. Jude Children's Research Hospital
.  For JMonster's first birthday we put a bowl and a sign out at his party asking for donations to this wonderful organization.  Every time I read a story of one of St. Jude's kiddos, I cry and then pray that we will never have to use their wonderful hospital.
To this day, it amazes me that St. Jude NEVER asks a patient or their family for one penny.  Everything is free, beyond what insurance or medicaid covers.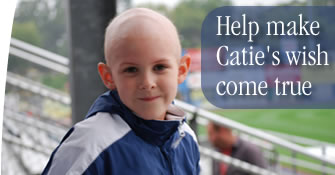 Catie's final wish gives hope to other children

Seven-year-old Catie passed away on January 25, 2009, surrounded by her family. She died of an aggressive form of cancer called atypical teratoid rhabdoid tumor (ATRT). Because of the location in the spine rather than the brain, doctors determined that Catie's diagnosis was especially rare, and she was referred to St. Jude Children's Research Hospital for treatment. 

St. Jude doctors and nurses went to work, using every tool they had to eradicate Catie's cancer and to care for her as if she were their own child. Catie underwent 31 radiation treatments, as well as high-dose chemotherapy and a progenitor cell transplant following each round of chemotherapy—but unfortunately her tumor returned. 

When it was clear nothing more could be done to cure Catie, her family decided with heavy hearts—and Catie's blessing—to stop treatment in December 2008. Catie went home to spend Christmas and the time that remained with her family.

On her last day at the hospital, Catie had pictures taken in the chapel. She wore her First Holy Communion dress. She visited her doctors and nurses to give them gifts and to thank them for all they had done for her. Then she said goodbye.

Back home in Pennsylvania, she cherished the time with her family. She used a wheelchair because she could no longer walk. Soon, her sight failed and she was blind.

Knowing we would not be able to save her life, Catie wanted to help St. Jude save the lives of other children who are battling pediatric cancer. So when discussion turned to what Catie might want as her final wish, Catie's mother expected her to wish for something for herself. A special toy, a dream vacation … the sky was the limit.

But after a month of thinking, Catie came to her mother and said she had decided she wanted to help other children and families, just as St. Jude had helped her. She said she wanted to raise enough money to run St. Jude all day on April 23—her eighth birthday. 

Taken aback, Catie's mother explained that it costs $1.4 million to run St. Jude each day. And at that moment, Catie's seven years shone innocently through.

"Is that a lot of money?" asked Catie.

She decided she wanted everyone to give to St. Jude in honor of her eighth birthday until the donations reached that magic $1.4 million mark. She also hoped that everyone would color April 23 purple on their calendar because purple was her favorite color, and she wanted to be remembered.

It would be a mistake to think of Catie as a saint while she was alive—she was a real-life kid who loved playing with her sisters and brother. But Catie's legacy speaks volumes about her loving and unselfish nature. Even at 7 years old, knowing she could not be cured, she believed St. Jude provides something very important—research and treatment for the worst diseases that affect children.

Catie's story could break your heart, but her parents hope it won't. They want something very good to come from Catie's story and from her final wish. 

Inherent in Catie's birthday wish is so much hope—she envisioned a world without pediatric cancer. She told her doctors she was going to raise enough money to help cure pediatric cancer and put them out of a job. She believed we would get there some day.






Please take some time and check out this wonderful organization on their website! See if their mission can help you match your passion with your purpose.