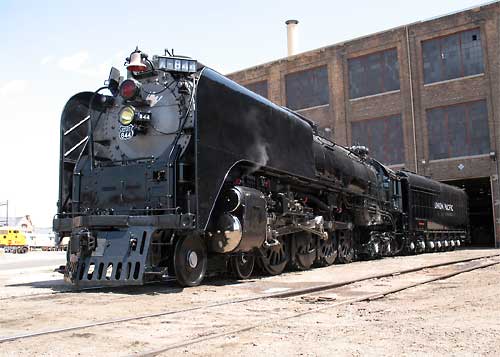 Visiting THIS train is JMonster's and my plan for our Saturday afternoon.
A young boy's dream!
(We will post pictures later if we are able to get any.)
Thousands of people have lined the route as Union Pacific Railroad's No. 844, the last steam locomotive built for Union Pacific, travels to and from Texas to celebrate railroad history and heritage in the Rio Grande Valley.

"The crowds along the route have been tremendous and we sincerely appreciate those who have taken the time to come and experience a part of Union Pacific's heritage," said Joe Adams, vice president of public affairs for Union Pacific's Southern Region. "With this being the first time No. 844 has been south of Houston, we thought it only fitting to name the tour after a very popular Missouri Pacific passenger train, the Valley Eagle, which operated between Houston and Brownsville."

The Valley Eagle consisted of four cars: two coaches, a grill-coach and a mail car. The two coaches were unique in that one end of each passenger rail car had picture windows that allowed rear viewing as the train was pulled. When service started, the grill coach was placed between the two coaches so that the viewing windows of the coaches were at each end of the train. When the train reached Brownsville, the locomotive and mail car were simply switched to the head of the train without having to turn all the cars around for the trip back to Houston. The Valley Eagle began running in late1948 and was discontinued in June 1962. Missouri Pacific merged with Union Pacific in 1982.

No. 844, also known as Union Pacific's "Living Legend," returned to service in 2005 after one of the most extensive steam locomotive overhauls in the United States since the 1950s. The work began in 2000 and nearly every part was overhauled including its running gear, pumps, piping, valves and springs, along with replacement of its firebox and extensive boiler work. No. 844 was built and delivered to Union Pacific Railroad in 1944. A high-speed passenger engine, it pulled such widely known trains as the Overland Limited, Los Angeles Limited, Portland Rose and Challenger.

When diesel-electric locomotives took over all passenger train duties, No. 844 was placed in freight service in Nebraska between 1957 and 1959. It was saved from being scrapped in 1960 and held for special service.