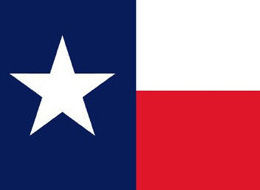 AUSTIN, Texas -- Texas Gov. Rick Perry fired up an anti-tax "tea party" Wednesday with his stance against the federal government and for states' rights as some in his U.S. flag-waving audience shouted, "Secede!"

An animated Perry told the crowd at Austin City Hall -- one of three tea parties he was attending across the state -- that officials in Washington have abandoned the country's founding principles of limited government. He said the federal government is strangling Americans with taxation, spending and debt.

Perry repeated his running theme that Texas' economy is in relatively good shape compared with other states and with the "federal budget mess."
Being a Texan (once a Texan, always a Texan!) I'm not inclined to disagree with the THOUGHT of seceding. We have the right. But, does that mean it's something we should actually do?
I never thought I'd be so frustrated with where America is heading. Being called "un-American" or a TERRORIST because I disagree with the ideology of those currently in power has made me stop and think, though. Is this how I want MY country run? I'm a socially responsible person. My husband does first hand work with major non-profit SOCIAL organizations...yet because I do not agree that the government is the best option for where my money should go to help people, now I'm somehow less sympathetic or empathetic to those without?
Because I do not think that socialized healthcare is the answer, now I am selfish...this being said by someone who is so young they haven't lived long enough to figure out that Utopia does not and can never exist. This individual actually said that those people that HAVE (if you aren't poor) should be willing to accept poor healthcare just so others can have better healthcare. Huh?!? I need MY standard of healthcare to fall so others can have better healthcare than me? When they aren't paying for it?
Is this the same reasoning we use when we punish an entire classroom of children for the behavior of one or two students? Or fail an entire project because one person wouldn't do their part? Do I deserve the same pay rate as someone who put in 4 years of college, 4 years of med school, 3 years of residency, and possibly 2 or more years of a fellowship? Really!?!
This world has turned topsy turvey in my mind.
I was trying very hard to take my head out of the sand and become more involved in current news and events. I don't think I can do it anymore, though.
It gives me a headache.
Maybe my coping mechanisms were better than I thought!